Summer Kickoff BBQ Sale
Sunday June 10, 2018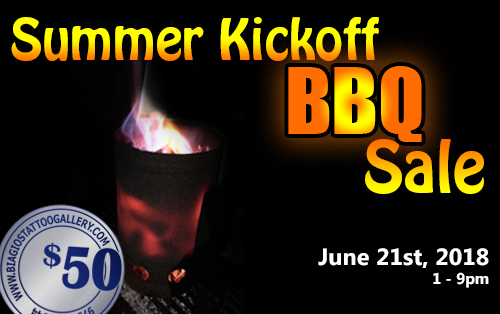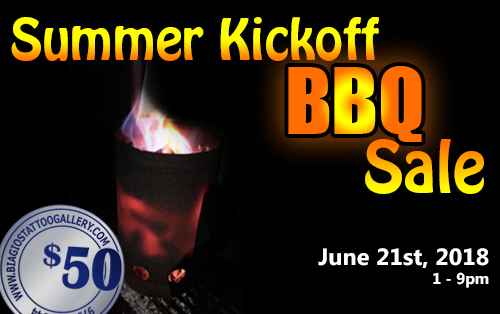 Biagio's Tattoo Gallery is proud to present the Summer Kickoff BBQ Sale! On the first day of summer, June 21, 2018, Biagio's Tattoo Gallery will be celebrating with a BBQ as well as a HUGE sale. We will be offering a promotion for every $100 Gift chip purchased an additional $50 gift chip will be given. Also, we will be doing a special discounted rate for anyone who leaves a deposit on the day of the BBQ. Stop by and get your summer started right!
Info
A place where all forms of art can be displayed and viewed by everyone
Biagio's Tattoo Gallery's mission is to open the world to the creative side of the human mind. All of the art on the walls display creativity through experimentation, skill and intellect. The showcased artists will always have these attributes.
Hours of Operation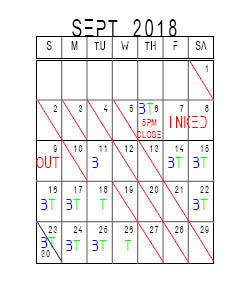 Rotating schedule of 5 days open, 3 days closed. 1pm - 9pm
Location / Contact Info
3138 State Route 10 West, Suite 1
Denville, NJ 07834
Phone973.620.9944
Schedule of Artists
Biagio - Oct. 18th + 21st + 24th + 26th 1pm - 9pm

(By Appointment Only)

Leilani -

By Appointment Only

Rob Talo - Oct. 16th - 19th + 24th - 28th 1pm - 9pm (Rotating 5 Days On - 3 Days Off)
Leilagio
Art Scholarship Fund
Here at Biagio's Tattoo Gallery we believe in the benefits of an artists education. We understand the value of knowledge & creative expansion and how it can benefit individual lives as well as entire communities. Because of such, we offer the Leilagio Art Scholarship to a prospective art student at William Paterson University. Funds are gathered from painting auctions, donations and tattooing during exhibit opening days. If you are interested in donating to our scholarship, please email us.