News And Events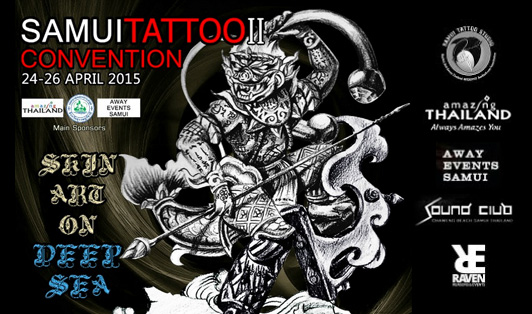 Samui Tattoo II Convention in Ko Samui, Thailand
Biagio's Tattoo Gallery's artists, Biagio and Leilani will be tattooing LIVE for the first time at this years Samui Tattoo Convention in Ko Samui, Thailand !! Experience the tattoo culture of Thailand!! There will be artist tattoo contests, tattoo art gallery, bamboo tattoo contest, body piercing, live painting performance, 37 tattoo studios, The Bigbike Motor Show and so much more!! For more information CLICK HERE!

Tattoo Mania West Palm Beach, FL May 29-31, 2015
Biagio's Tattoo Gallery's very own artists, Biagio and Leilani, will be tattooing live at this year's Tattoo Mania II in West Palm Beach, Florida!! From local to international award winning tattoo artists, to unique specialty vendors! This years event will include artists seminars, live music, special performances and entertainment, beer garden, art fusion wall, graffiti wall, tattoo contests and awards, fashion show, pin-up pageant, special guests, a car show and much more!! Tattoo Mania is an entertaining event for the entire family!! For more information about this event CLICK HERE

"From Pixels to Canvas" Art Exhibit
Paints, Pencils, Pastels and Pixels are tools which an artist may use to express their imaginativeness. Biagios Tattoo Gallery presents a new exhibit, "From Pixels to Canvas" featuring the artwork from a variety of artists working in an array of media. Feature artist, J. Gomez digitally manipulates his images before printing them on canvas and Mike Felber takes digital reminents and applies them on found objects. The opening reception is Friday, March 20, 2015 from 5 p.m. to 9 p.m. Festivities will include collaborative paintings open to the public, raffles, and auctions. Donations and auctions will benefit the Leilagio Art Scholarship at William Paterson University. So bring your friends and family to check out our new Spring show!!! Fun, Painting, and Amazing Art!!
TAKE A CLOSER LOOK AT THIS EXHIBIT!!